The very thing the Deep State, DNC and GOP wanted to hide may now have a legal path forward!
Two things are good about the various Trump Indictments.
When you read the indictyments you can see how weak they are (espacially the last one in Fulton County, Georgia), and;
These indictments open the door wide open for incredible evidence to be presented.  HUGE EVIDENCE you have not even seen.
As I stated in a tweet earlier today: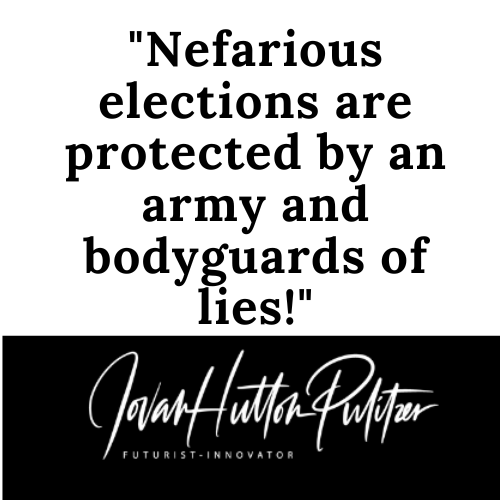 If these indictments ever get to court the truth about what happened will forever be entered into the permanent record and history of the United States and its elections.
The real problem is, the GOP has kept the truth about "how to uncover election maladministration and malfeasance from all GOP precincts. Personally I blame the GOP for what has happened with our elections MORE than I do the DNC.
IN CASE YOU HAVE NOT BEGUN YOUR REAL ELECTION INTEGRITY TRAINING - here are just a few of the 300 things you SHOULD know how to identify, audit, expose and correct! 
These are just a few of the training topics we do at www.FireAxe.Academy
1.       BALLOT PAPER - FACTS/FICTION and REALITY
a.       What You Need To Know About Ballot Paper Security PART 1
2.       BALLOT STRAY MARKS, RANDOM MARKS and FORCED ADJUDICATION
a.       How every type of mark on a ballot is read and has need of accounting
3.       HOW little MARKS Cause BIG PROBLEMS!
a.       You ONLY THINK You Voted!
4.       What A Cast Vote Record REALLY LOOKS LIKE!
a.       Why They Hide The Real Data and Images - LOOK AND SEE THE REAL RECORDS!
5.       Election Hand Job - Sleight of Hand Selecting Not Electing
a.       Why Networked Air-Gapping is a HUGE GAP in Election Integrity!
6.       Testing 1,2,3... Testing "Is This Thing Working?"
a.       Yes, but it is working to RIG THE ELECTION!
7.       Convenient and Accommodating Election Hack
a.       "We are here to make voting easier!"
8.       Using Ballot ID's for Full Forensic Audits
a.       Examples, Issues, Problems and Deception
9.       Auditing Election Equipment - Ballot On Demand Printers
a.       Our Elections Are Only as Good as the Equipment Which They Operate Under!
10.   175,441 That's How Many There Are! (Precincts and Poll Watchers) FREE
a.       We Need To Change The Odds!
11.   Blank Stare Ballots! The Undetected Phenomena
a.       What Are You Doing Here? How To Sneak In 10's of Thousands Fake Votes - Undetected!
12.   Vote Hacking USB and Data Cards In Elections FREE
a.       How To Prevent "Air Gapped and Mobile USB and Data Card Hacking" In Elections
13.   Postal System Vote Hacks! How To Stop Them With Laws!
a.       Clever Concealed Coding Undoes Election Integrity
14.   Ostracizing ERIC - State By State (FIOA and Subpoena Requests
a.       Getting To The Bottom Of The ERIC Mess
15.   How Deep State and Bad Actors Use The Unsuspecting Election Workers To Implement Hacks
a.       YOU end up being the perpetrator!
16.   UN-INSPECTED ADJUDICATIONS or AUTOMATED ADJUDICATIONS
a.       How To Audit for Fair and Balanced Ballot Adjudications
17.   Yes, There ARE Some Crazy Voters, But Do You Know About SPLIT PERSONALITY VOTERS?
a.       The Hack Which Splits You In Two!
18.   Closing Signature Verification Loopholes
a.       Using Kari Lake Judge's Ruling As A Guide Post
19.   EARLY VOTING - Who Really Benefits?
a.       The Dirty Secrets Of Early Voting!
20.   So, You're Preparing to Clean Voter Rolls
a.       Where To Start - It's An Art!
21.   The Random Audit
a.       The Not-So-Random-Way To Hide Election Malfeasance
22.   REWINDING ELECTION RESULTS
a.       The Roll-Back Rig
23.   The Chance Is "SO REMOTE!"
a.       The Remote Access Rig!
24.   CONNECTING THE DOTS
a.       Ballot Printers (and Paper) Have Rules - Authentic Ballot Detection
25.   STICKY FINGERS - STICKY SITUATION
a.       Finding Nefarious Activity In Ballot Storage - Detecting Ballot Swapping
26.   Words Matter - Intentionally NOT FINDING Rigged Elections - Self-Audit Style
a.       How and Why Board of Supervisors and Election Committees Conduct Their Own Audits AND It's NOT To Prove The Elections Are Safe
27.   "Jack The Ripper" Your Audit Plans
a.       How to gut and dissect your audit plan, SO YOU GET IT RIGHT!
28.   REALITY CHECK: NO MACHINES and HAND COUNTING
a.       Managing Expectations and Looking At The Reality of Hand Counting Ballots
29.   Including Stakeholders In Audits
a.       When Systems Are Involved, The Systems Manufacturers Should Be Included
30.   Investigating Missing Ballots, Irregular Counts - Detroit Michigan Examples of Malfeasance and Maladministration
a.       Speckin Forensics Report and Commentary
31.   The Bonanza of the Ballot Envelope
a.       How To Key In On The Keys Of The Ballot Envelope
32.   How We Win With Election Integrity FREE
a.       There is a logical path forward to keep America a Constitutional Republic
33.   14th Amendment Battle Tactics In Election Integrity
a.       Sometimes We Miss The Easiest Win - Elections Are Supposed To Self-Audit
34.   The Easy Peasy SUPRIZE ATTACK VOTE HACK!
a.       You Only Thought You Could Vote!
35.   Detecting Maladministration and Nefarious Activities in Provisional Ballots
a.       Download files attached
36.   Thousands Upon Thousands Of Batches Of Maladministration Evidence
a.       Undeniable Physical Proof (DOWNLOAD ATTACHED)